Average DR of Top10 SERP Sites
complete
Hi,
That would be amazing if you could add a new column like "ADR" beside the "KD" showing the average DR of the actual top10 sites that ranks for this specific keyword.
The KD metric is so off that I always need to check manually the top10 sites in the SERP and check if there really an opportunity to rank for this term according to my site authority.
Another great feature would be to have a column "LDR" for "Lowest DR" so this way, we could easily know what is the lowest DR site ranked in the top10 for the keywords.
These 2 new features would be a game changer for the keywords explorer module!!!
Please consider seriously this request :) Thank you.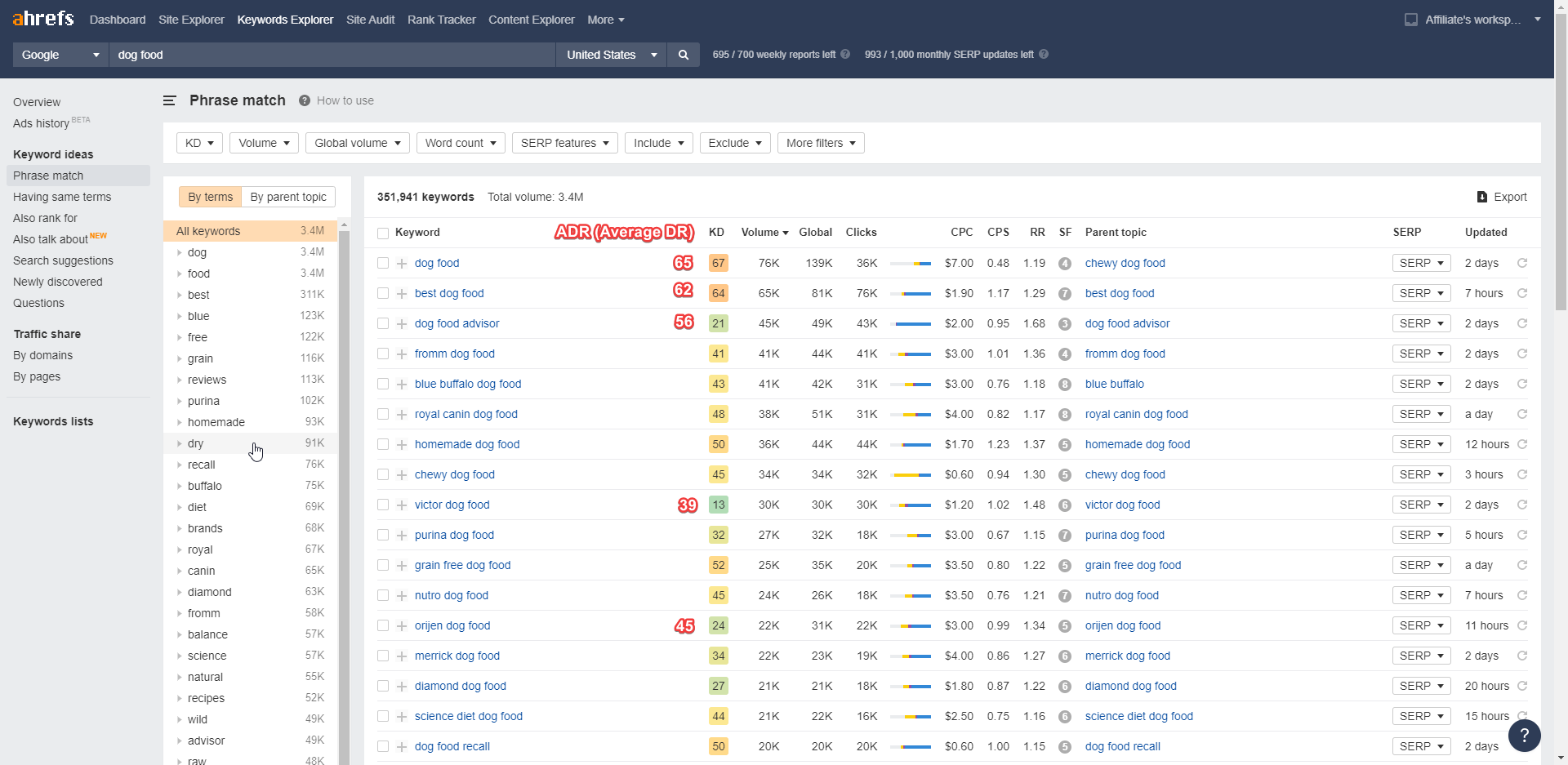 marked this post as
complete
Merged in a post:
New Filter for the Keyword Explorer Tool: max DR of domains in top 10
This would be a great way to make the Keyword Explorer tool more useful. The existing keyword difficulty filter doesn't always help as it only takes into account backlinks of ranking pages but it ignores the overall DR of ranking sites.
For example, you can set the keyword difficulty to zero and end up with all domains in the top 10 having DR of 80+. The keyword difficulty is not really zero in this case since these pages are ranking off the overall authority of domains they belong to. And these domains already have a ton of links.
It would be great to have a filter that would allow setting a max DR of domains in the top 10.
For example, setting the max DR filter to 20 for keywords containing "design ideas" would show all keywords belonging to that cluster that have at least one page with DR 20 or below in top 10 SERP.
Merged in a post:
Filter To Select DR or UR in Keywords List
Can we have a Filter in Keywords Explore >> Keyword Lists while doing research that we can Select a Range of DR or UR (From & To) also a limit like 5 sites so after that we can only see the keywords in which top 10 ranking sites (5 of them has filtered DR or UR),
so that we do not have to click on Keyword (To Check The SERP) or open the keyword into a new tab to check the authority of the top 10 ranking sites as Ahrefs KD only rely on Backlinks of the current ranking page, not on the website overall authority aka DR,
maybe it seems complicated but will save a lot of hours while doing KW Research as if we only want to find or filter the keywords in which any of 5 websites that are ranking in the top 10 have DR or UR from 20 to 50.
Merged in a post:
Filter DR on SERPs
Many times I'm researching a keyword, and I want to see how sites within a certain DR range are performing (for instance, 0 to 30). It would be nice to be able to filter sites by DR to isolate sites and determine realistic traffic expectations for a similar site.